CPR/AED and First Aid Course Offerings
Help save the life of a loved one, a friend, or even a complete stranger! The American Heart Association's 'watch-then-practice' format makes learning straight-forward and easy. Our training includes the most up-to-date guidelines and protocols, and are open to Studio members as well as the general public.
We can also schedule a company training at your off-site location, if that is more convenient for you. Contact us for more details, and/or see the link below for our upcoming classes .
Our next Heartsaver CPR/AED Course is scheduled for Saturday, October 26, 2019.
Advance registration is required at least 48-hours prior to the training.
Are you apprehensive about taking your first CPR/AED course? No worries! - read below for a few testimonials from one of our recent participants: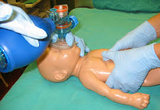 Are you having difficulty finding a "live" course that fits your busy schedule? Read on and follow these simple steps:
1) Visit http://www.onlineaha.org/ to sign up for the online cognitive session, part one, of the Heartcode BLS, Heartsaver CPR/AED and/or Heartsaver First Aid class of your choice.
2) Complete the cognitive portion of one of the above courses online and print the completion certificate.
3) Contact us for an appointment to have your skills evaluated, part two. The skills session fee is $25.00 and takes approximately 1 hour. Upon successful completion, you will receive your two year AHA certification card within two weeks.
Remember, you must bring the online course completion certificate with you to the skills evaluation session.
Course Description: The American Heart Association Basic Life Support (BLS) Course is the foundation for saving lives after cardiac arrest. The course teaches both single-rescuer and team basic life support skills for application in both in-facility and pre-hospital settings. It includes the most recent guidelines and covers core material such as adult and pediatric CPR (including two-rescuer scenarios and use of the bag mask), foreign-body airway obstruction, and automated external defibrillation. Students must pass a skills test and written exam in order to qualify for a course completion card which is valid for 2 years.
Target Audience: This course is designed for healthcare professionals such as EMS personnel, physician assistants, doctors, dentists, nurses, and respiratory therapists who need to know how to perform CPR and other basic cardiovascular life support skills and need a credential (card) documenting successful completion of a CPR course.
Course Description: The AHA Heartsaver AED Course teaches adult/child CPR, use of an Automated External Defibrillator (AED), relief of choking in adults and children, and infant CPR and relief of choking. Also the use of barrier devices for all ages. Students must pass a skills test in order to qualify for a course completion card. The card is valid for 2 years.
Target Audience: This course is intended for anyone with little or no medical training who have a duty to respond to a cardiac emergency because of job, regulatory (e.g. OSHA), or other requirements. This course may also be taken by anyone who wants to be prepared for an emergency in any setting. This is NOT the correct course for Healthcare Providers.
Heartsaver Pediatric First Aid, CPR, AED
Course Description: The Heartsaver CPR/AED and Pediatric First Aid course covers Adult, Child CPR/AED and choking, Infant CPR and choking, as well as Pediatric First Aid basics, medical emergencies, injury emergencies, and environmental emergencies.
Target Audience: Childcare providers, parents, grandparents, babysitters, camp counselors, coaches, teachers, and foster care workers. NOTE: This course is not designed for the Healthcare professional.
This American Heart Association certification is valid for 2 years and meets the regulatory and credentialed training requirements in all 50 states. Students must pass a skills test in order to qualify for a CPR/AED course completion card.
This program is for employees at companies, corporations, or other business entities and/or designated personnel who have a duty to respond to a first aid emergency because of job responsibilities or regulatory requirements. You will learn:
First aid basics

Medical emergencies

Injury emergencies

Environmental emergencies
First Aid instruction includes bandaging, bleeding, wounds, choking, shock, seizure, fainting, broken bones, sprains, burns, bites, stings, poison, and temperature-related conditions, to name a few.
Heartsaver Bloodborne Pathogens
Course Description: The AHA Heartsaver Bloodborne Pathogens Course is designed to meet Occupational Safety and Health Administration (OSHA) requirements for bloodborne pathogens training. Learn what to do when there is danger of, or has been exposure to, bloodborne pathogens in the workplace. May be used as a stand-alone course or as an add-on to CPR/AED or First Aid training.
Target Audience: This course is for anyone with a reasonable chance for occupational exposure to blood or blood-containing materials. People may include workers in industry and manufacturing, occupational health, hospitality, health and fitness, child care, schools, maintenance, tattoo design, etc.
The American Heart Association strongly promotes knowledge and proficiency in BLS, ACLS and PALS and has developed instructional materials for this purpose. Use of these materials in an educational course does not represent course sponsorship by the American Heart Association. Any fees charged for such a course, a portion of fees for AHA course materials, do not represent income to the Association.